The overall nightly charge is £19 for 2 persons, which is inclusive of electric hook-up.

• Bank Holidays £23 - minimum 3 night stay over Bank Holidays.

• Porch awnings £3 per night, full awnings £3.50 per night and £5 per night for additional persons.

• Hard standing is £2.50 extra per night

• Showers are free of charge

Booking and any further enquiries can be made by telephone, fax or email as detailed below.

Cheques payable to LAIRHILLOCK TOURING PARK. Debit/Credit Card payments are welcome.

We look forward to welcoming you to Lairhillock Touring Park.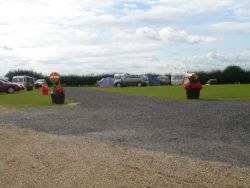 Please remember that our park is for adults only.

We are now open all year round.



Open Christmas and New Year!